Discover more from Agile Notes
Notes from books, articles and blogs related to Agile, Scrum, SAFe and continuous improvement. It is an attempt to collect the tools of my trade as a Scrum Master and Project Manager.
Agile Notes (No. 14)
Every Friday, I send out an email highlighting a concept relating to Agile/Scrum/Continuous Improvement. Lets get to it….
This week, we continue with Notes from the excellent Coaching Agile Teams by Lyssa Adkins. I absolutely LOVE how Lyssa brings her practice of mindfulness and being present into her coaching. Being an agile coach is about listening and communication. Really. Effective. Communication.
Chapter 7 gets into teaching and coaching during the team start up. We got a glimpse of this concept in "The Art of Avoiding a Train Wreck." I really like the formality/ceremony of learning about each team member. In ART, we learned about creating Personal Maps. Adkins offers a couple of alternatives. One of them is Journey Lines borrowed from Tichy's The Cycle of Leadership: How Great Leaders Teach Their Companies to Win.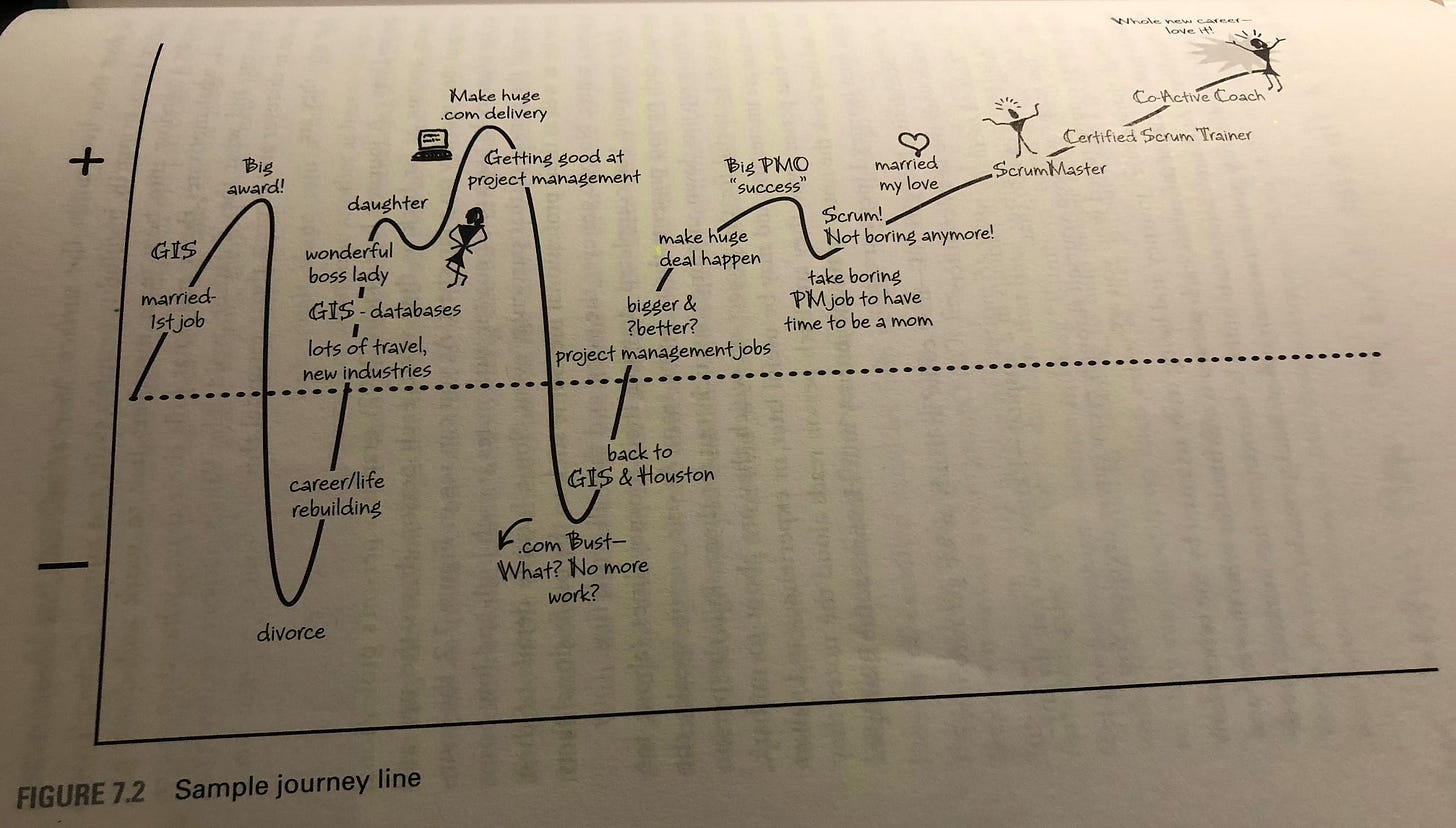 Creating a Journey Line for yourself would be an excellent way to reflect on your career. Anyone can apply this method. You can include personal details or just stick to career highlights AND low lights. Adkins lays out how to use them with your team. DON'T CALL IT TEAM BUILDING.
Give the team 10 to 15 minutes to create their personal journey. Then, everyone presents their journey. As they present, the other team members should be capturing anything that sticks out to them. What should they be looking for? The audience should be listening for skills the person has that can help with the project along with talents and experiences that may be helpful.
Use this exercise with team members that have worked together in the past. Adkins presents an anecdote about team members who had sat next to each other for years but had no idea of major events that had shaped the person. Powerful stuff.
As Adkins writes, "Deep connections get started through Journey Lines." Next time we will talk a little bit about Resistance to these types of exercises.
Thanks for reading. Please, leave a comment. Do you have any coaching tips? Share them in the comments! And, if you think about it, maybe forward this on to someone you know. They don't have to be Agile or even be thinking about being Agile.
I hope you enjoyed this note. Please subscribe and be sure to never miss a Note.