Discover more from Agile Notes
Notes from books, articles and blogs related to Agile, Scrum, SAFe and continuous improvement. It is an attempt to collect the tools of my trade as a Scrum Master and Project Manager.
Agile Notes (No. 7)
Every week, on Fridays, I will send out an email highlighting a concept relating to Agile/Scrum/Continuous Improvement. Here we go…..
We are continuing with some notes from The ART of Avoiding a Train Wreck by Em Campbell-Pretty and Adrienne L. Wilson. ART is short for Agile Release Train and is a concept from Scaled Agile.
Have you ever joined a new team and struggled with getting to know them? Ever been to a small conference or training and needed an ice breaker? Its hard, right? How can you possibly retain it all in one "let's go around the table/call and introduce ourselves?" It losses its impact in a hurry. Let me go one step further….how well do you know the teammates you have been working with for the last 5 years?
Em and Adrienne introduce two concepts: Llewellyn Falco's Speed Meet and Jurgen Appelo's Personal Maps. Lets focus on the Personal Map. From page 215: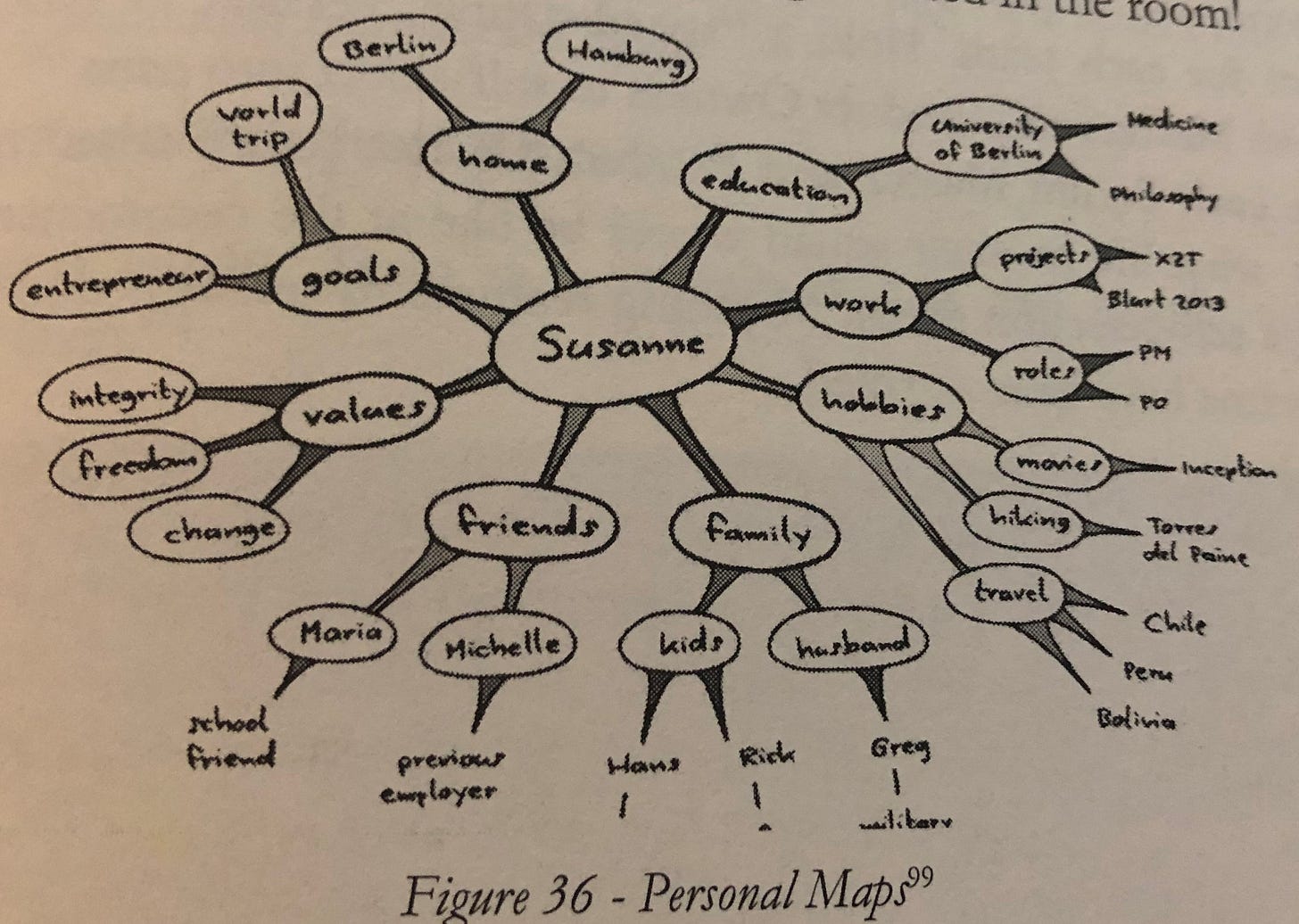 I am seriously thinking about using my own Personal Map on my Linkedin page. There are so many ways you can use this tool. Have everyone on the team fill out a map and then circulate around the team. Have everyone fill one out but have them work with a different team mate on each of the main sections: home, education, work, etc…Get everyone together and fill them out a section at a time - or get everyone together and have each person talk to the main sections but everyone on the team has to fill out a Map on the speaker!
Does your team have a collaboration space? Post everyone's Maps. Schedule time to update them. Did someone get married? Have a baby? Get a new certification? Travel somewhere exciting? Have an update party. Instead of putting a slide up showing the people that had birthdays this month, show a Personal Map, show updated Personal Maps.
They remind me of baseball cards. (I'm old, we used to collect baseball cards.) Or Pokemon cards. A small piece of card board that tells your story. Actually, I really like that idea - Personal Map cards for everyone that you could hand out like business cards!
Here's a link to a video from Jurgen Appelo talking about Personal Maps.
PLEASE, feel free to comment about other ways we could use Personal Maps to develop relationships within our teams.
I hope you enjoyed this note. Please subscribe and be sure to never miss a Note.