Discover more from Agile Notes
Notes from books, articles and blogs related to Agile, Scrum, SAFe and continuous improvement. It is an attempt to collect the tools of my trade as a Scrum Master and Project Manager.
Agile Notes (No. 9)
Every Friday, I send out an email highlighting a concept relating to Agile/Scrum/Continuous Improvement. Here we go…..
We are continuing with some notes from The ART of Avoiding a Train Wreck by Em Campbell-Pretty and Adrienne L. Wilson. ART is short for Agile Release Train and is a concept from Scaled Agile. We are in the home stretch with ART. Only a few more notes to go from ART.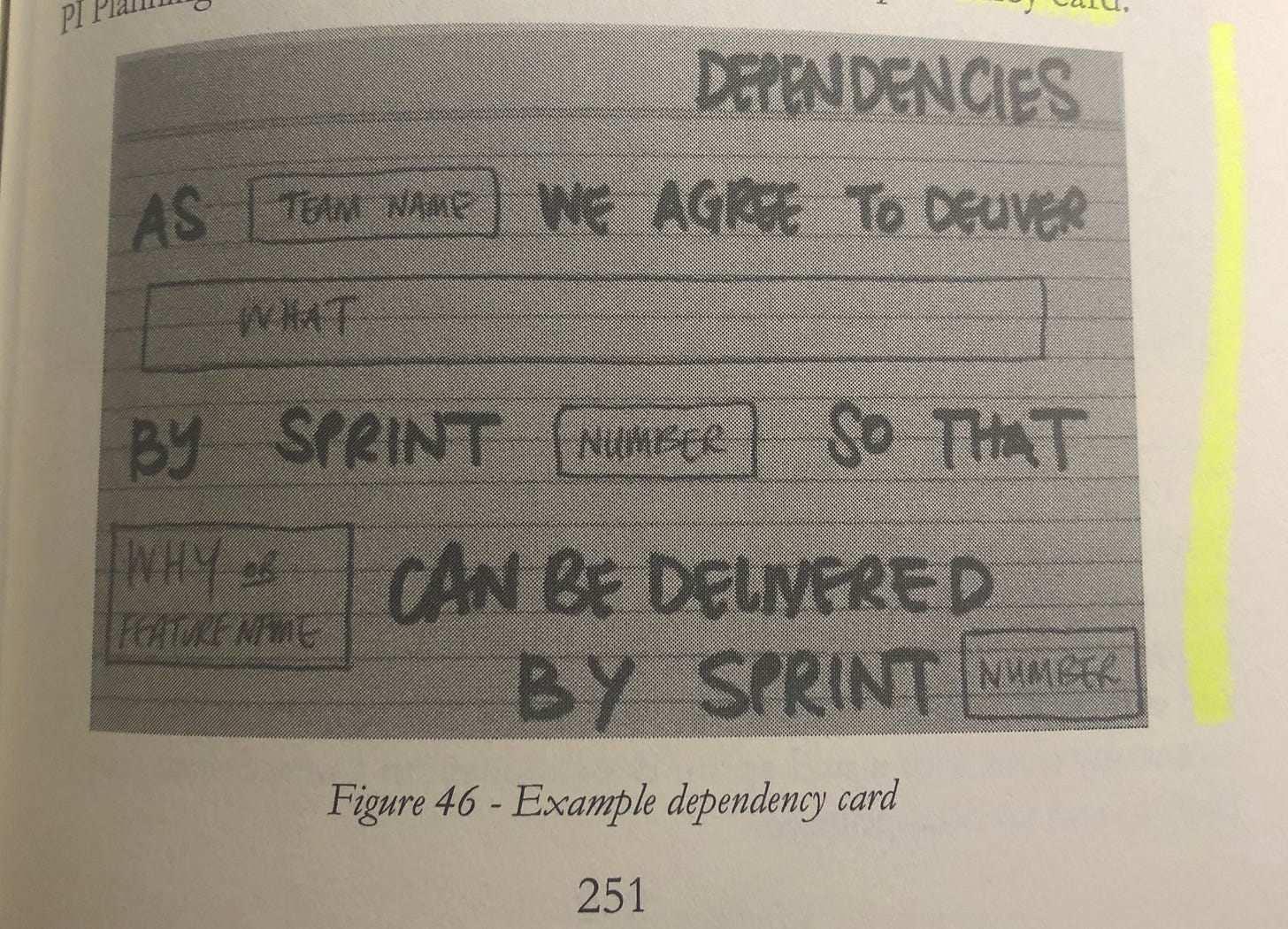 Keep in mind, ART is about Scaled Agile (SAFe). It gets into running multiple scrum teams focused toward delivering a working product. There is PLENTY of great stuff in this book that can apply to plain vanilla individual scrum teams. The Dependency Card is one of them. To plan a Release or even a Sprint (increment) you will most likely have DEPENDENCIES on other teams. Maybe other Scrum teams if you are working with a shared component. Maybe an infrastructure team is needed to create a new QA environment or change network routing.
You can make this approach work for you in many ways. What if you run 2 week sprints and your infrastructure teams don't run sprints at all? You can still secure their commitment to deliver their piece. All you would do is replace "Sprint Number" with a date.
If you run virtually and don't have a shared Team Room, you can still find a way to share this commitment in public. Everything gets exposed to the light! No behind the scenes/behind the team dealings. If you are virtual, you can note the dependency in Jira (I'm sure you can do this in Rally but I live in Jira these days). You could create a top line section on your Program Wiki. You could create a separate slide if you <shudder> use slides to show status updates.
Ultimately, Dependency Cards support the No Surprises! Rule. As a scrum master, I want to know Blockers and Dependencies. I want to track both. I want to actively be working on both. I NEVER want to come towards the end of a Sprint or a Release(!) and out of the blue someone raises their hand and mentions that we are still waiting on …. whatever.
PLEASE, leave a comment. How are you dealing with Dependencies?
I hope you enjoyed this note. Please subscribe and be sure to never miss a Note.