Discover more from Agile Notes
Notes from books, articles and blogs related to Agile, Scrum, SAFe and continuous improvement. It is an attempt to collect the tools of my trade as a Scrum Master and Project Manager.
Agile Notes (No. 13)
Every Friday, I send out an email highlighting a concept relating to Agile/Scrum/Continuous Improvement. Lets get to it….
This week, we continue with Notes from the excellent Coaching Agile Teams by Lyssa Adkins. I absolutely LOVE how Lyssa brings her practice of mindfulness and being present into her coaching. Being an agile coach is about listening and communication. Really. Effective. Communication.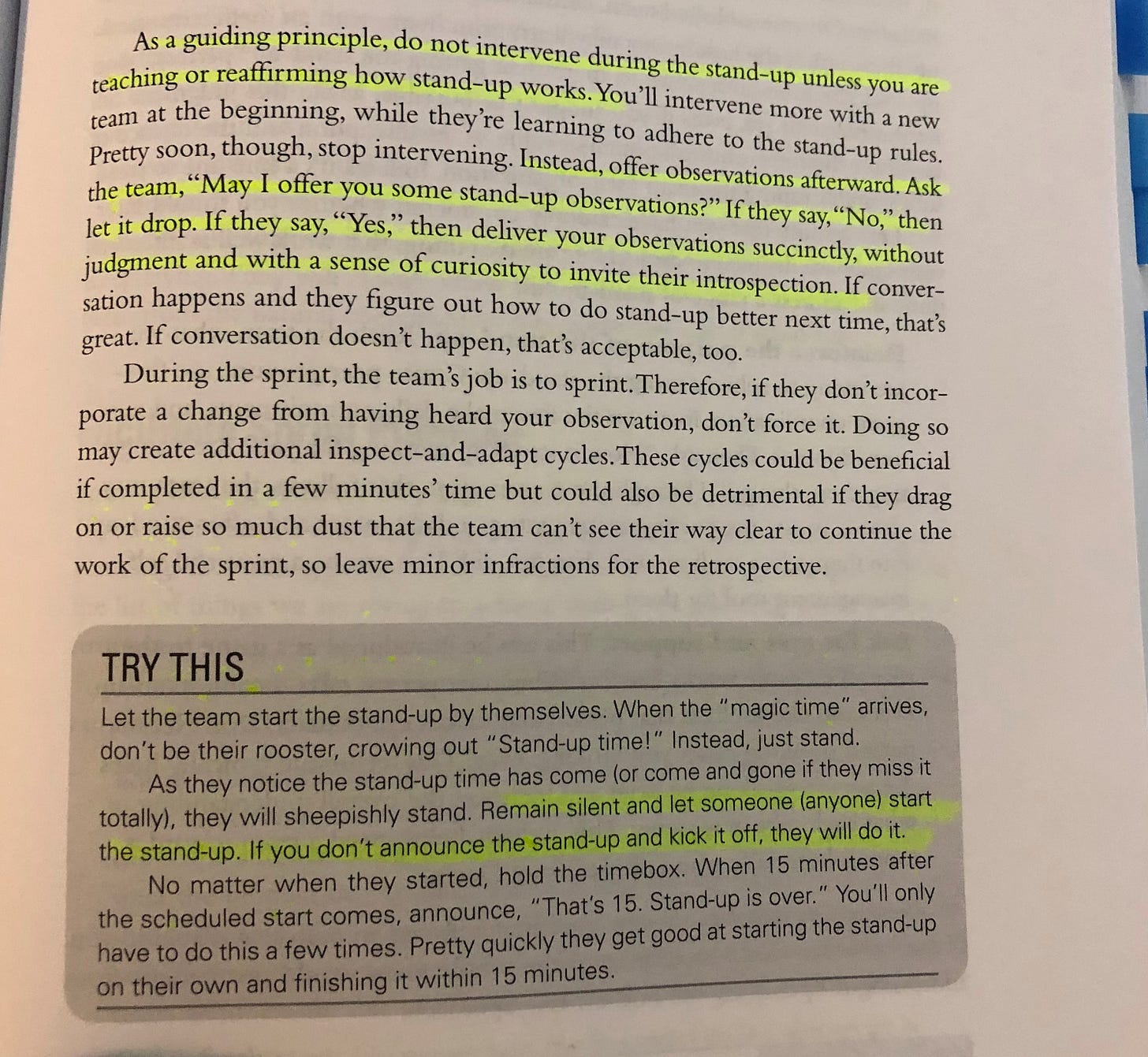 This notes comes from Chapter 6: Coach as Facilitator and the section Facilitate During the Stand Up on pages 119-121. I have to push back a little. Keep in mind there is a difference between a Coach and a Scrum Master. In my current role, I find myself leaning more to the Coach side. It is about "wielding a light touch." Its about gently steering the team to better practices.
The Try This section might need to be updated. I have been working remotely for years before COVID-19. Most of you, if not all, are working remotely. The notion of staying quiet during the start of a daily stand-up just generates too much unnecessary stress for me. I act as an MC during our call. We are all on video. We bring up our Jira Sprint Board. And as MC, I move us from person to person through the group. It saves SO MUCH TIME. I don't think this is bad. I think it helps. It makes it flow better.
Now - If you are a Coach and the Scrum Master is not facilitating then, absolutely, have a conversation with them. Gently. Softly.
There is good advice in the top of the screen shot. As a coach, do not intervene in the stand-up. Wait until the end and ask if you can offer some thoughts. Do it with a sense of curiosity. I like that - why do we do things this way? Has this always been the case? Then bring it around to Scrum Principles.
Thanks for reading. Please, leave a comment. Do you have any coaching tips? Share them in the comments! And, if you think about it, maybe forward this on to someone you know.
I hope you enjoyed this note. Please subscribe and be sure to never miss a Note.